---
---
KTO-C8 Chews in New Zealand 
KTO®-C8 Chews are a novel delivery system for medium-chain triglycerides that can be enjoyed by ketogenic dieters as well as anyone looking for the boost that these special fats provide while keeping sugar intake low. Each strawberry-watermelon flavored chew provides 500 mg of medium-chain triglycerides (MCTs) as pure caprylic acid (C8). The chews are sweetened with allulose and stevia extract and contain fiber from inulin, giving them just 2 grams of net carbs per chew. They are delicious tasting and appropriate for people of all ages.
Recommended Use: Take 1 chew per day or as directed by your health-care practitioner.
* These statements have not been evaluated by the Food and Drug Administration. This product is not intended to diagnose, treat, cure, or prevent any disease.
GLUTEN FREE
DAIRY FREE
SOY FREE
VEGETARIAN
NON-GMO
VEGAN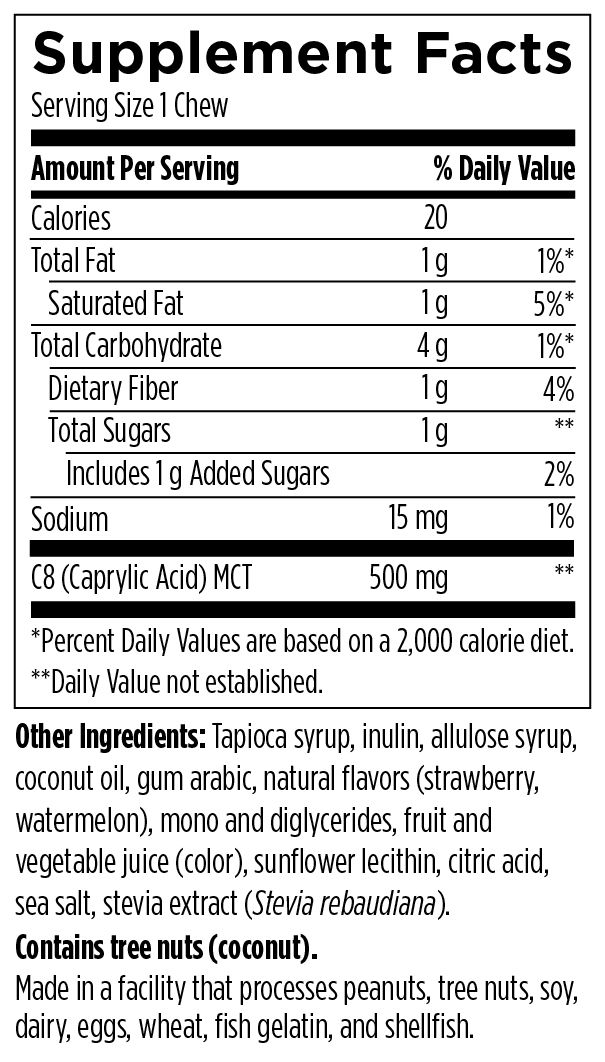 ---